Hybrid Feng Shui Seminar
September 17, 2022
@
10:00 am
–
September 18, 2022
@
5:00 pm
UTC+10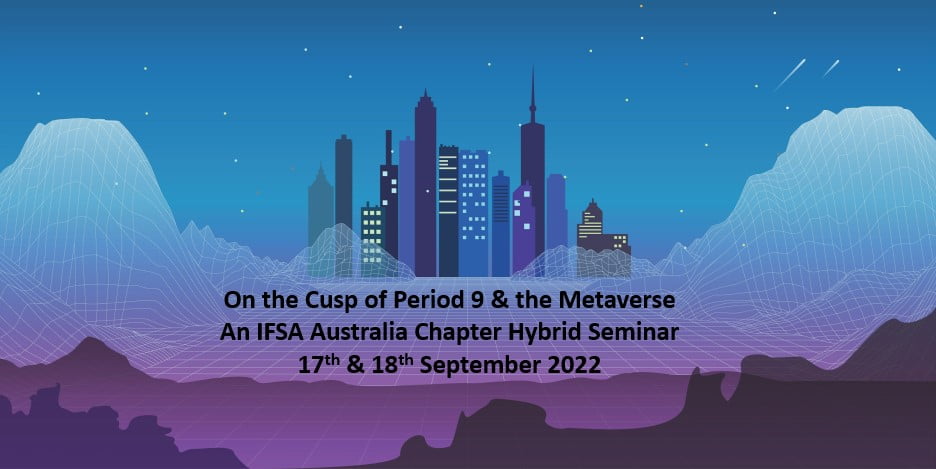 17th & 18th September 2022
'On the Cusp of Period 9 & the Metaverse'
The lush and serene rainforest eco-system of the UNESCO-designated Noosa Biosphere on Queensland's picturesque Sunshine Coast, is the inspiring setting for IFSA Australia Chapter's – Hybrid Seminar 2022!
Nestled in this internationally protected area lies Peppers Noosa Resort, one of the largest conference and event facilities in the region. The resort is tranquil, yet only moments from the world class shopping and culinary hub of Hastings Street and Noosa's stunning main beach, Laguna Bay.
With a vast choice of accommodation options both on-site and nearby, this is a great location to combine professional training with some personal leisure time.
We've booked the Aqua Room for our seminar, which is the perfect setting for such an event as it opens directly onto the pre-function Terrace and View Bar, offering a sophisticated space for delegate breakout sessions, casual social networking and all our fully catered morning teas, afternoon teas and lunches.  In fact there's even a barista to satisfy the most discerning of coffee needs!
This year we've planned an exciting, professional training program which not only showcases the diverse skills and expertise of our IFSA Accredited Masters, but also allows attendance for delegates both virtually and in person.
Furthermore we believe our theme 'On the Cusp of Period 9 & the Metaverse' is a timely reflection of our growing focus on social media connection, as well as the increasing integration between virtual and physical space.  It also reflects the shift in energies, generated by an approaching new Feng Shui age, which amongst other things predicts the rise of women in power and the reshuffling of our life priorities.
How will such dynamic, emerging technologies and new energetic influences affect our consultation process and how do we adapt the traditional practice of Chinese Metaphysics so that it still meets consumer needs and supports the ongoing growth of a vibrant, professional Feng Shui industry?
Our 2022 program is outlined below and includes both pre and post-seminar training opportunities.  You may register for events separately via our secure online shop or purchase the entire seminar package at a discounted rate.  Please note that IFSA Members are also eligible for a further seminar discount.
Event Program:
Ten Gods in Bazi short course with Dr. Jin Peh – 13th, 14th & 15th September
Welcome Sunset Noosa River Cruise – Friday evening 16th September (includes drinks & canapes)
Saturday 17th September – Day 1 of Seminar (includes morning/afternoon tea & lunch break)
Delegates Dinner – (Saturday evening 17th September at Peppers Resort)
Sunday 18th September – Day 2 of Seminar (includes morning/afternoon tea & lunch break)
San Yuen Yuen Gua Feng Shui on-site Study Group with Master Edgar Lok Tin Yung – 19th & 20th September
List of Speakers:
Master Jan Leese – Keynote Speaker
Master Dr. Jin Peh
Master Edgar Lok Tin Yung
Master Janene Laird
Master Dr. Anna Zarasyan
Master Jane Langof
Master Carolyn McCallum
Master Fiona Hawkins
Master Tina Curro
Event Pricing:
IFSA Members 2 Day Ticket – $249
Non – Members 2 Day Ticket – $269
IFSA Member: Virtual 2 Day Attendance – $149 (includes exclusive link of seminar recording)
Non – Member: Virtual 2 Day Attendance – $169 (includes exclusive link of seminar recording)
Welcome Sunset Noosa River Cruise – $69 (includes drinks & canapes)
Delegates Dinner – $89 (includes a 2 course meal and welcome cocktail)
IFSA Members Seminar, River Cruise & Dinner Package – $399
Non- Members Seminar, River Cruise & Dinner Package – $419
Payment Modes:
To secure your ticket, please visit the IFSA Shop and pay via our secure online
Contact Us:
All enquiries regarding the IFSA Australia Chapter – Hybrid Seminar 2022, please email Master Janene Laird at president@intfsa.org.au.
Transportation:
For those delegates who are coming from interstate, a variety of domestic flights with Qantas, Jetstar or Virgin into the Sunshine Coast Airport are readily available. It is advisable however to book early as ticket prices are likely to increase closer to the date.
Noosa Heads is a 30 minute drive from the Sunshine Coast Airport with both taxi and Uber services operating. Please note that these are subject to price fluctuation and availability.
Con-X-ion operates a reliable and cost effective Airport Shuttle from the airport to your specified location around the Noosa Heads area. For more information regarding this service please visit Sunshine Coast Airport Transfers & Shuttle Bus | (con-x-ion.com).
Accommodation: